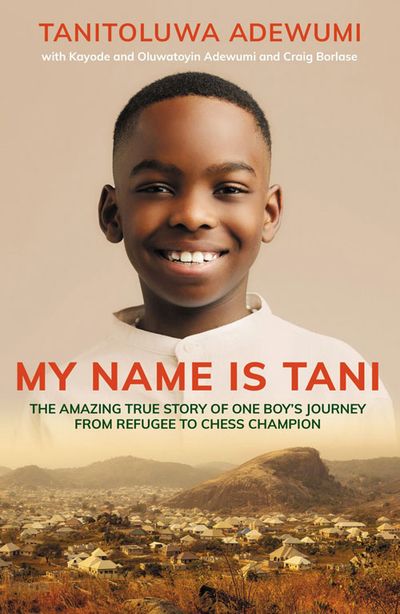 My Name is Tani: The Amazing True Story of One Boy's Journey from Refugee to Chess Champion
By Tani Adewumi
For readers of inspirational stories such as Ishmael Beah's story A Long Way Gone, Malala Yousafzai's I Am Malala and Nujeen Mustafa's story The Girl From Aleppo. All of whom risked their lives for a safer future. Meet Tani Adewumi whose story of survival took him from being a refugee to a New York City Chess Champion.
My Name is Tani: The Amazing True Story of One Boy's Journey from Refugee to Chess Champion.
For eight-year-old Tani Adewumi, growing up in Abuja, Nigeria, life is good. His father, a prosperous businessman, is descended from a royal family. His mother's family owns a profitable printing press.
Then what should have been a routine print job changes the family's fortunes forever. Threatened by Boko Haram terrorists, fearing capture or killing, they're forced to make a desperate move – across an ocean to New York City.
Tani's father finds work as a dishwasher and Uber driver while the family lives at a homeless shelter. Fleeing violence only to become trapped in poverty, their future looks bleak.
The problem finds an unexpected solution when Tani joins his high school's chess program. Discovering a rare talent for the game, he quickly rises up the ranks to compete at the highest level.
Once a pawn in a game he didn't understand, now Tani must seize the opportunity to save himself, and rescue his family…